DFW Chapel 2020
Growth of SRF in North Texas
Paramahansa Yogananda often said that the SRF work would begin as a gentle zephyr and would gradually increase in power and force until, as a mighty wind, it would help to sweep away the darkness and impurities clouding the lives of God's children. In 2014, an independent documentary, AWAKE: The Life of Yogananda, was released in Dallas and major cities across the United States. Introducing the life and work of Paramahansa Yogananda to millions more God-seeking souls, this feature-length film is a major landmark in the history and spread of Yogananda's mission throughout the world.
As Yogananda's teachings continue to spread, the SRF Mother Center in Los Angeles regularly sends SRF monastics with increasing frequency to lead lecture tours, meditation group workshops, and regional retreats in Dallas-Ft. Worth.
DFW Long Term Planning Committee
The DFW Meditation Group has supported the teachings of Yogananda and the growth of SRF in North Texas since 1972. In 2008, a Long Term Planning Committee (LTPC) was established to spearhead efforts to establish a permanent SRF center in Dallas-Ft. Worth. After leading Group brainstorming sessions and formally surveying members for input, the LTPC formulated preliminary criteria for a local SRF spiritual complex with sanctuary, Sunday School, meeting, and foodservice facilities. The next year, 2009, SRF established a tax-exempt DFW Building Fund. The LTPC then initiated a building fundraising campaign to bring to fruition a permanent SRF center in Dallas-Ft. Worth by the year 2020. The Committee envisions establishing a temple via one of two methods: acquiring an existing church, the most common method, or purchasing land and constructing a new temple.
Acquiring An Existing Church
As congregations grow and move into larger facilities, existing churches are often for sale in DFW. Many SRF temples and meditation group centers have purchased and adapted existing church facilities. Examples include the SRF Glendale Temple and the Boston and Kansas City Meditation Groups.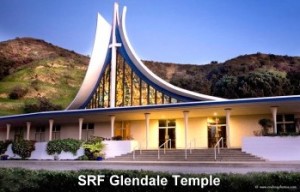 Building a New Chapel
A second way in which to establish a permanent SRF chapel in Dallas-Ft. Worth might be the purchase of vacant land and construction of a new temple and facilities from the ground up. The SRF Atlanta Center was established in this way in 2000.
Ongoing Search and Fundraising
Members of the Long Term Planning Committee, which include a commercial realtor, the Managing Council, and other interested Group members continue to look at potential church properties, commercial buildings, and vacant property suitable for an SRF chapel in Dallas-Ft. Worth. We welcome your input and greatly appreciate and welcome the financial support of all interested in the life and work of Paramahansa Yogananda.
To help support the Building Fund Project, please visit our DFW Building Fund page.