Wednesday Midweek Meditation
"You don't know how much you help one another when you meditate with other devotees. The vibration that is created supports and encourages each one."    Sri Daya Mata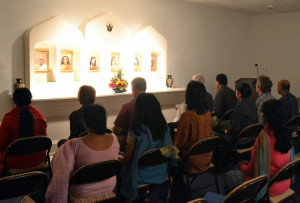 We invite everyone to join us every Wednesday evening for our Midweek Meditation from 7 pm to 8 pm. The service includes: Prayer, Inspirational Reading, Chanting, Meditation, Prayers for Others, and Healing Affirmations.                       
The Wednesday evening service comes at a time during the week when we may be most in need of inspiration. Paramahansa Yogananda emphasized the Benefits of Group Meditation for helping each of us on the spiritual path.
The Midweek Meditation service is open to all.