Socials
"Self-Realization Fellowship signifies fellowship with God through Self-realization, and friendship with all truth-seeking souls."
― Paramahansa Yogananda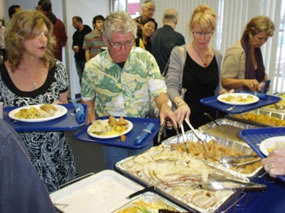 In addition to providing the opportunity to experience the power of group meditation and inspirational services, SRF Temples, centers, and meditation groups offer the opportunity to share in spiritual fellowship. Yogananda has said that if one "wants to become a spiritual giant, he should associate with devotees of God." We become like the people we mingle with, not only through their conversation, but through the silent magnetic vibration that emanates from them. When we come into the range of their magnetism we are affected.
The DFW Meditation Group schedules a number of social events throughout the year to foster spiritual fellowship. Some socials are catered, others are "pot-luck" style in which devotees bring vegetarian dishes. Some special events are held in the evening. However, most social events are held conveniently after Sunday services.
In addition to quarterly socials, other special social occasions include: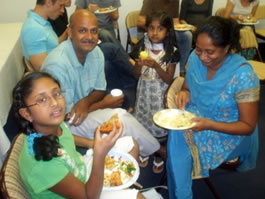 Yogananda's Birthday Cake Social
Kirtan (Devotional Chanting) & Dinner
India Night Celebration
Monastic Dinner Receptions
Thanksgiving Social
Post Convocation Social
Group socials are wonderful opportunities to get to know fellow devotees. We warmly invite you, your friends, and family to join us for these occasions of fellowship with other sincere seekers of God.