Sunday School
"The ideal of right education for youth had always been very close to my heart."  ― Paramahansa Yogananda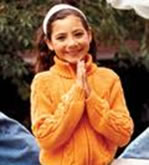 Paramahansa Yogananda felt deeply for the welfare of children and took a lifelong interest in their all-around education. Carrying on this tradition, SRF Sunday School classes are held from 11:00 a.m. to Noon on Sundays for children ages 5 to 13. There is no registration or fee required to attend any of our services or our Sunday School. All services and activities are open to the public, and all are welcome to attend.
What We Teach
The Sunday school program effectively introduces children to the teachings of Paramahansa Yogananda in an environment that is both fun and educational. Aims of the Sunday School are: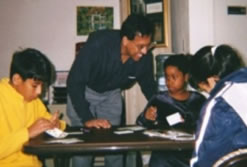 To interest and inspire children to seek and love God above all else
To teach them that security and inward peace can be found only when one knows God
To teach them at an early age how to live happy balanced lives, how to bring God into their daily lives, and how to develop a personal relationship with Him through the practice of regular meditation
Classroom Format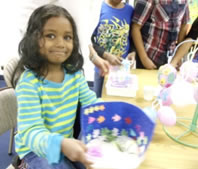 Centered on the writings of Paramahansa Yogananda, the Sunday School teachings include meditation and the high moral principles which are the cornerstones of Self-Realization Fellowship. At the opening of every class, children offer prayers to God and Gurus followed by the practice of the SRF Energization Exercises and a brief period of meditation. Other activities follow that engage the children's imagination such as storytelling, playacting, games, and arts & crafts.
How to Enroll
The first time a child attends Sunday School, we ask parents or guardians to fill out a registration form and medical contact information. Please ask any Sunday School teacher about enrolling your children.
Family Room
Parents with children under 5 may listen to services in the Family Room. We ask that at least one parent be present with his or her child at all times. Any child who is not attending Sunday School should be supervised by his or her parents at all times.
Sunday School Staff
"Our Sunday School teachers have a large responsibility, for they can help to change the world. By teaching the children of today to put God first in their lives, Self-Realization Fellowship Sunday School teachers will be helping to create a new and better world for tomorrow." ― Sri Daya Mata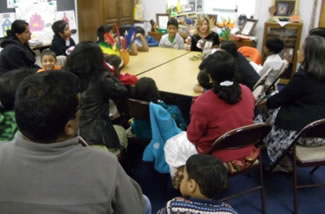 At the heart of our Sunday School program is a core of dedicated volunteer Teachers and Assistants who have been approved by the SRF Mother Center in Los Angeles to lead Sunday School activities. The essential qualities teachers bring to the classes are their love of youth and their personal understanding of the spiritual principles taught by Paramahansa Yogananda. Through their cheerfulness and enthusiasm, teachers encourage the children's interest in our practical spiritual programs.
Sunday School Teachers must be Kriyaban members (that is, those who have received Kriya Yoga initiation). Assistant Teachers, who must be SRF Lesson Students, provide invaluable support to help Teachers maintain smoothly run classes. Besides planning Sunday School lessons based on the SRF teachings, Teachers and Assistants work together exchanging ideas and making plans to develop "fun" activities to keep the vitality of the program fresh.
How You Can Help Your Child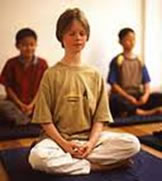 As a parent, you can help your children get the most out of their Sunday School experience by being an example of kindness, love, understanding, and compassion ― all the qualities which come as one strives to live by spiritual principles. We have found that by living the spiritual life, parents can inspire their children to want to attend Sunday School and practice what they learn there.
If you would like more information, or have any questions or ideas about how we may better serve the children and families attending the DFW Meditation Group, please email the Sunday School Coordinator at sundayschool@srfdallasfortworth.org.
SRF Youth Programs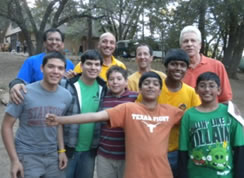 In addition to Sunday School programs offered by temples and meditation groups, Self-Realization Fellowship offers Summer Day Camp "How to Live" programs in Encinitas, California. Children ages 7-18 are invited to participate in these day camps to nurture their spiritual life free from the many distractions of daily life. Emphasis is on creating a balanced and harmonious life based on the teachings of Paramahansa Yogananda. Activities include a balanced schedule of meditation, classes, activities, crafts, and sports in on the 20 acre campus of Encinitas Country Day School. For more information, visit the Summer Day Camp page at the SRF website.