Yogananda & Self-Realization Fellowship
"Self-Realization Fellowship has come into the world to draw souls to God through their own expanding Self-realization. SRF brings a step-by-step ladder of Self-realization that is universally true, scientific, and capable of leading mankind in the quickest way to the goal of eternal happiness." ― Paramahansa Yogananda
In 1920, Paramahansa Yogananda, one of the greatest emissaries in the world of India's ancient wisdom, founded Self-Realization Fellowship (SRF) to make available the universal teachings of Kriya Yoga, a sacred spiritual science originating millenniums ago in India and brought to the world by the SRF line of Gurus. Now a worldwide religious organization with international headquarters in Los Angeles, SRF remains dedicated through the organizational leadership of Sri Mrinalini Mata, a direct disciple of Yogananda, to carrying on the spiritual and humanitarian work of the beloved world teacher, widely revered as the father of Yoga in the West.
In accordance with Yogananda's wishes, the work of SRF is guided by the monastic order he established along the lines of the ancient swami tradition of India. Monks and nuns of SRF take formal vows of renunciation and serve the spiritual needs of SRF members and friends worldwide. SRF ministers regularly visit Dallas-Ft. Worth to hold public lectures, informal talks, and lead devotional services and retreats to support the teachings of Paramahansa Yogananda.
Carrying on the great guru's life work, SRF fosters a greater understanding of the harmony underlying all true religions and a fuller expression of the love that unites all people when they realize their oneness in God.
The Fellowship publishes Yogananda's writings, lectures, and recorded talks, and oversees temples, retreats, meditation centers, and the monastic communities of the Self-Realization Order.
Autobiography of a Yogi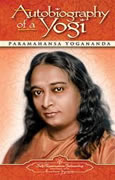 As an introduction to Paramahansa Yogananda and his teachings, many worldwide have read his Autobiography of a Yogi, a spiritual classic first published in 1946 available through SRF or in the DFW Meditation Group Book Room. A free introductory booklet is also available online or in our Book Room:  Undreamed-of Possibilities: an Introduction to Self-Realization Fellowship.
Self-Realization Fellowship Lessons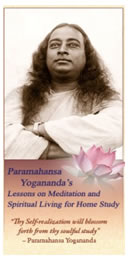 Central to Yogananda's teachings are scientific techniques of concentration and meditation that lead to direct personal experience of God. Compiled from Yogananda's recorded lectures and writings, the teachings are made available today as during his lifetime through the printed Self-Realization Fellowship Lessons, available online or in our Book Room.
The Lessons contain techniques of energization, concentration, meditation, and the higher technique of the Kriya Yoga science. These yoga methods quiet body and mind, thus making it possible to withdraw one's energy and attention from the usual turbulence of thoughts, emotions, and sensory perceptions. In the clarity of that inner stillness, one comes to experience a deepening interior peace and awareness of God's presence toward achieving life's ultimate goal — union of the soul with Spirit (God).
The comprehensive home-study series covers a wide range of topics to embody a complete philosophy and way of life, offering Yogananda's inspiring and practical guidance for achieving balanced physical, mental, material, and spiritual well-being.
To enable all sincere seekers to receive the teachings of Paramahansa Yogananda in the comfort of their own homes, subscription rates are minimal and cover only part of the costs of the publications. Applications are available at the DFW Meditation Group Center or can be downloaded from the SRF website.