About DFW Meditation Group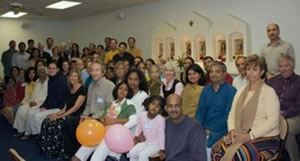 Paramahansa Yogananda often declared that groups of deeply meditating devotees create a powerful spiritual magnet that attracts other sincere souls to God. He stressed that the primary, indispensable purpose of meditation groups is to bring together truth-seeking souls to search for and find God. The Dallas-Ft. Worth Meditation Group, established in 1972, conducts devotional services in accordance with the teachings of Yogananda and the guidelines of his organization, Self-Realization Fellowship (SRF). DFW Meditation Group devotional services enable members to derive the deepened spiritual benefits of group meditation through application of the divine law of united concentration.  For over 45 years, members have also experienced the continued blessing of guidance, leadership, and instructions from the many SRF monastics who have visited to bring the teachings of Paramahansa Yogananda to Dallas-Ft. Worth. Monastics conduct public lectures, retreats, workshops, give instructions in the SRF techniques of meditation, and initiate members into Kriya Yoga.
The Group also conducts Sunday School, social activities, and special events in accordance with the teachings of Yogananda and SRF. In Yogananda's teachings, members find guidance for spiritualizing marriage and family life, creating success and prosperity in business and professional endeavors, and contributing in a meaningful and serviceful way to their community, nation, and the world at large.
The DFW Meditation Group offers a haven for spiritual seekers to gather in divine fellowship and practice the techniques of meditation taught by Yogananda that produce the honey of direct, personal experience of God. There is no registration or fee required to attend any of our services or our Sunday School. All services and activities are open to the public, and everyone is welcome to attend.
Volunteers
All meditation services, group activities, and operations of the DFW Meditation Group are conducted by devoted volunteers and are coordinated by a five-person Managing Council elected annually by the Group members. We welcome your interest in serving the spiritual mission of Self-Realization Fellowship.
Book Room
The Book Room offers an extensive selection of the timeless writings and audio and video recordings of Paramahansa Yogananda and his direct disciples.  The Book Room accepts major credit cards and is open after services every Sunday.
Free Literature & Lending Library
For newcomers, Free Literature about Yogananda, SRF, and the DFW Meditation Group is available. A Lending Library also makes select publications available to borrow at no cost.
Social Activities
DFW Group members and visitors regularly enjoy social activities after Sunday Services. Potluck and catered socials are held periodically such as after the SRF Convocation, at Thanksgiving, in conjunction with group meetings, and when SRF ministers visit.
Prayer Requests
Monks and nuns of the Self-Realization fellowship Prayer Council pray deeply on a daily basis for all who request prayers for physical, mental, and spiritual healing, and for world peace. They are joined by SRF members and friends around the globe, including the DFW Meditation Group, who are part of the SRF Worldwide Prayer circle. Please visit our Prayer Requests page for more information.
Donations
The offerings of members and friends enable the Group to meet expenses and to support the local efforts of SRF. The Group remains deeply grateful for all financial support.
To donate by check, please make your checks payable to DFW Meditation Group. Checks can be mailed to DFW Meditation Group, P. O. Box  177854, Irving, Texas 75017, or placed in an Offertory basket.
To donate using your credit card, please go to our Donations page.